ROLE
Leading product
WAV is a music tech startup, backed by NAVER, with the mission of empowering independent music community to connect, discover, and grow. Though WAV has been around since 2016, it wasn't successfully delivering on its vision yet. I joined the project in March 2019 to help reboot the product & platform, in order to deliver clearer product value and to build out a new foundation that will scale.
WAV team is spread out across the globe between Los Angeles and Korea. My role was leading WAV's product team, composed of product managers and designers, and collaborating closely across the two locations.
PROBLEM SPACE
Music industry is changing, with new possibilities for artists to distribute their music and engage with fans through technology. How can we empower the emerging artists or artists who are just starting out to be discoverable and and creative? How can we create an experience for the music lovers to discover and engage with these artists?
WAV started out to become a platform to empower independent music community to connect and grow.
However, the existing product had a number of critical shortcomings.
Low engagement with music & video that artists uploaded onto the platform.

Difficulty in discovering quality content,

Users found user experience to be too complex and unclear when they land into the app.

Lack of a strong a unique value prop for the product
In order for WAV to re-start as a platform, these were critical to address.
REBOOT - WAV 3.0
Starting March 2019, we began rethinking where to focus & how to layout the product to reboot the platform. Here's are core experiences we drove towards and shipped as WAV 3.0 in August 2019.
#1. New App - Better engagement and Content discoverability
To make it easier for the community (artist & fans) to engage with another and discover the music that matters, we've redesigned the mobile app experience in the following ways.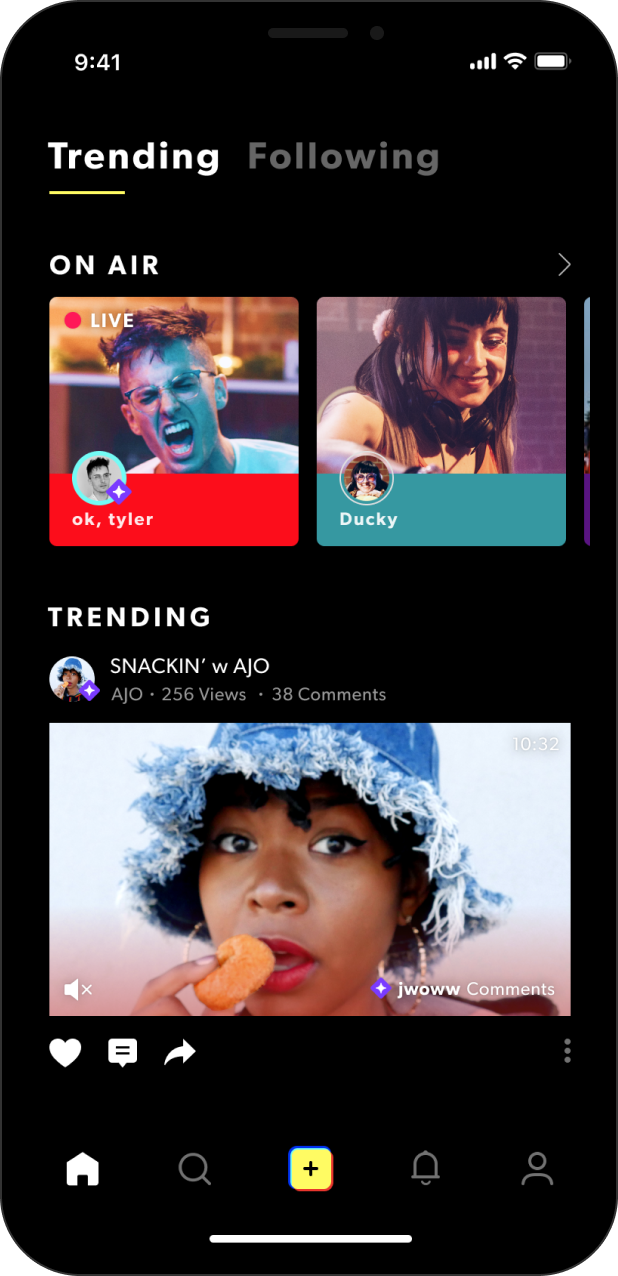 Feed focused on
livestreams and trending
To enable better discovery of content, we've redesigned the feed as the landing screen to focus on
1. Livestreams by prominent artists in the community
2. Trending content with updated logic to surface what the community is engaging with.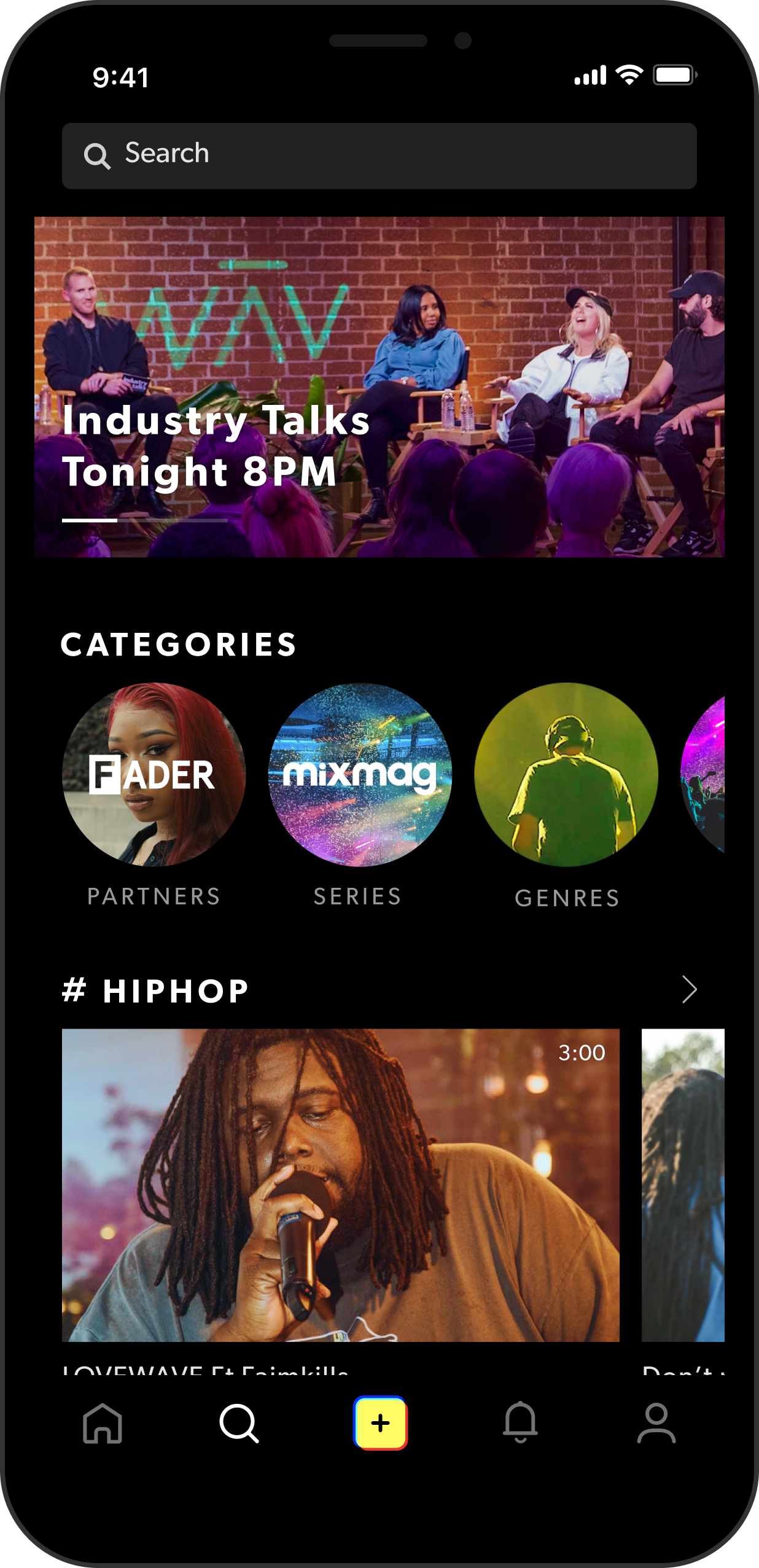 On top, easily discover quality content curated by the WAV team. WAV also creates its own production content, such as performance sessions of partner artists through 'Kickback' and industry knowledge panels such as 'Industry Talks'.
As you scroll, discover top content grouped by tags from artists around the community.
Looking for a
Livestreaming,
front & center
One of the goals for this reboot is to put livestreaming as a key part of the product experience.

In v3.0, we made big & small improvements to push towards that goal.
- Enabling livestreaming through desktop by working together with PRISM, another product team in NAVER.
- Refining the engagement experience, such as (finally) adding number of concurrent viewers and better chat experience,
- Improving the engineering framework for better livestreaming quality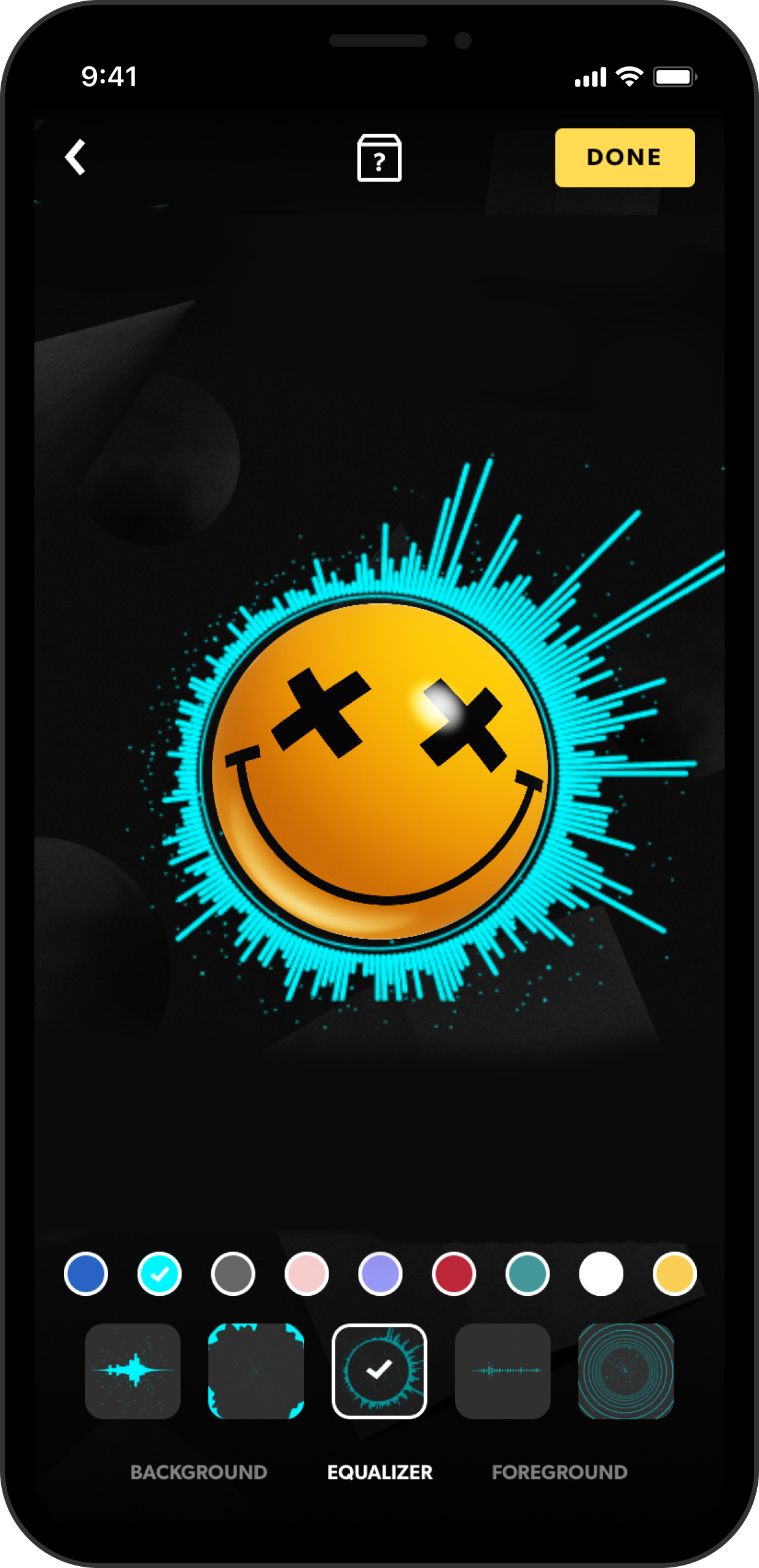 Visualize your music on your phone
Visualizer has always been a beloved feature by artists on WAV platform. It allows the artists to get creative by combining a number of elements (such as equalizer, background, and foreground) and turn it into a visualization of the music they upload.
This feature has always existed on the web. In the 3.0 release, we brought it onto Android & iOS to make it easier for artists generate content.
#2. New Web - Enable content discoverability
Previous WAV website was used mainly as an about page for what WAV is. Users could also share specific URLs to videos.
However, it lacked the ability for potential users to take a peek at WAV and what it offers without having to download the mobile app. This mattered, because having to download the app and sign up was a hurdle for the end user.
In the reboot, we updated the web experience so that users can discover livestreams and trending content right from the home page. Starting with the MVP, we are building out the web to grow relevant impact to the product as a whole.
RELEASE TO THE MARKET
The new mobile apps went live to iOS App Store and Android Play Store as v3.0 on August 5, 2019. Since then & along with the new growth initiatives, we've been seeing notable growth in the MAU / weekly session time / and other key engagement metrics.
The new web went live on WAV's home page on August 19, 2019. With the expanded experience, we aim to scale the platform presence and make it easier for more users to connect with the independent music community.
This was the work of the entire WAV team, pursuing the vision for the artist & music community.